Weekend Series — Jib and Main Overall Winner / Cannon Trophy
BILLADO / CANNON SERIES
• CANNON TROPHY •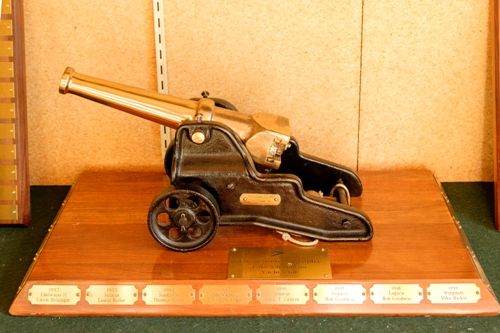 Lowest Series Score — Jib & Main Division
Ties Broken Based on Lowest Corrected Score
21st Consecutive Awarding — 2012
This trophy is a solid brass 10 guage starting cannon mounted on a cast iron carriage. It was used for many years as the starting gun for the club's races. But it was heavy and awkward to use, so eventually the club switched to a 10 guage shotgun. The cannon was retired to a clubhouse closet.
By 1992 non-spinnaker racing had begun to grow to significant numbers, so a new Jib & Main division was added to the club's long-standing weekend series. A special trophy was needed that would provide to the top non-spinnaker bot in the series the same distinctive recognition that the Billado Trophy did for the top spinnaker boat. Commodore Chuck Bowen and Regatta Chair Jeff Hill resurrected the venerable cannon, had it mounted on a mahogony base, and a new tradition was born. In 1997 Bob Goodwin, having the trophy at home as that year's winner, completely refurbished the cannon and modified the base to make it better able to display winners' names.
In 1992 and since, the Cannon series includes the Tea Kettle, Ladies Cup, Schuyler Island, and Hot Ruddered Bum races.
Engraved:
THE CANNON TROPHY
LAKE CHAMPLAIN YACHT CLUB
1992
Edelweiss II
Ulie Holzinger
Hunter 37 Cutter
1993
Solaris
Laurel Buttler (Non-member)
O'Day 28
1994
Sundance
Tom Glynn
Pearson37
1995
Edelweiss II
Ulie Holzinger
Hunter 37 Cutter
1996
Solaris
John Camm (Non-member)
O'Day 28
1997
Legacy
Bob Goodwin
Tartan 3000
1998
Legacy
Bob Goodwin
Tartan 3000
1999
Wingdam
Mike Barker
Tartan 34
2000
Wingdam
Mike Barker
Tartan 34
2001
Wingdam
Mike Barker
Tartan 34
2002
Wingdam
Mike Barker
Tartan 34
2003
Wingdam
Mike Barker
Tartan 34
2004
Radiant
Steve Landau
Tartan 34-2
2005
Wingdam
Mike Barker
Tartan 34
2006
Wingdam
Mike Barker
Tartan 34
2007
Wingdam
Mike Barker
Tartan 34
2008
Wingdam
Mike Barker
Tartan 34
2009
Mambo
Richard Howell
Etchells
2010
Snead
Luis Gonzalez/td>
Boyer Mark 4
2011
Wingdam
Mike Barker
Tartan 34
2012
Wingdam
Mike Barker
Tartan 34
2013
Wingdam
Mike Barker
Tartan 34
2014
Monk
Thomas Graham
C&C 27
2015
Kinsale
Robert Finn
J27
2016
Kinsale
Robert Finn
J27
2017
Kinsale
Robert Finn
J27