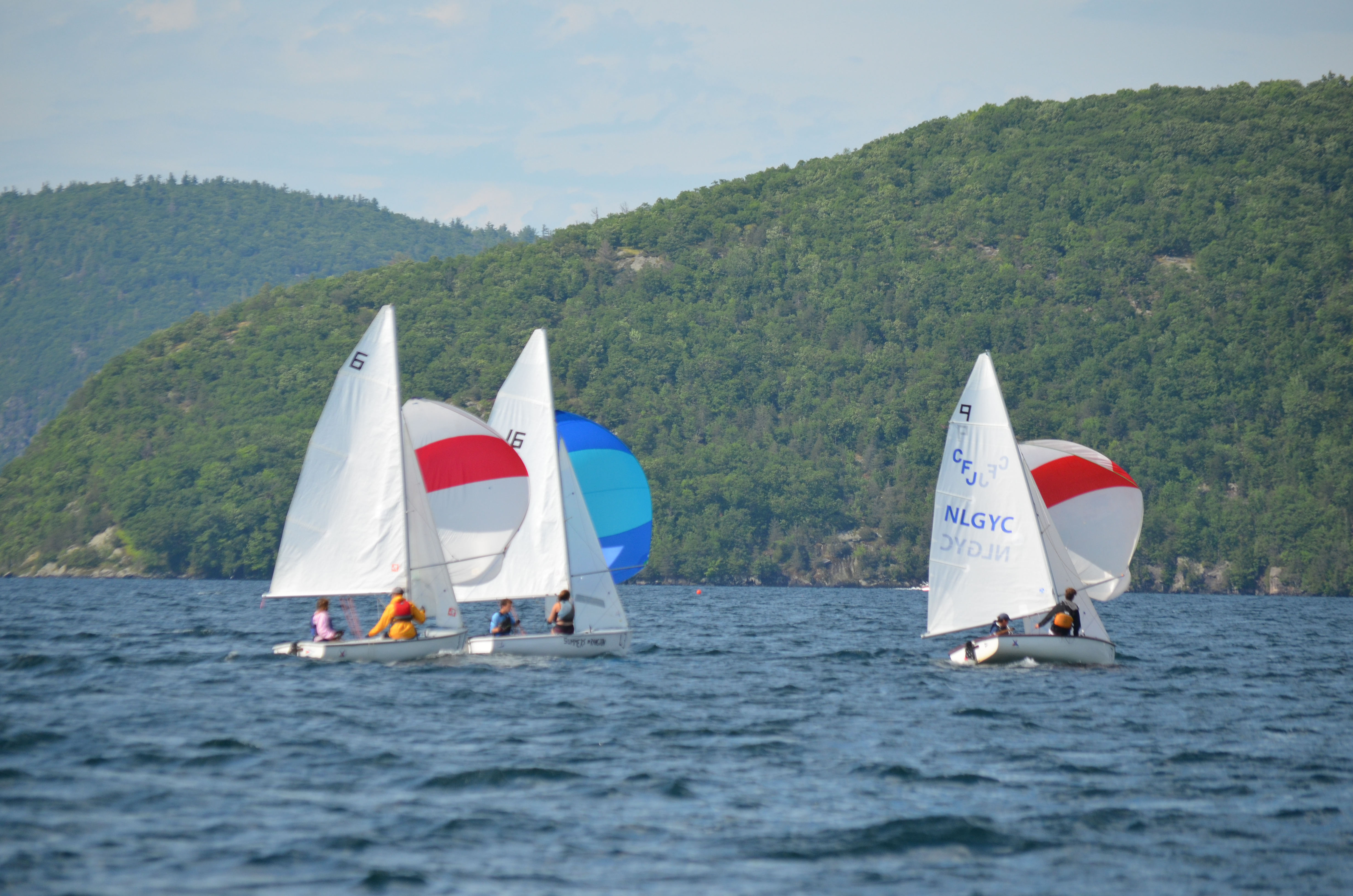 Junior Sailing Registration
The 2023 LCYC Junior Sailing Program - Registration
Program Overview

Registration for LCYC members starts February 1, 2023
Registration for non-members starts March 1, 2023
The priorities of our program are:
Safety
Fun
Developing a lifelong passion for sailing
Fostering a sense of stewardship for the environment
All of our Instructors have extensive sailing experience and are US Sailing certified, with Red Cross First Aid, CPR qualifications and they maintain state-level Boaters Safety licenses.
Important program information:
You do NOT need to be a LCYC member to participate in our junior sailing program.
Participants need to be between 8 and 17 years old or have finished the 2nd grade.
Participants must be able to swim. A swimming test will be given on the first day of each session.
Participants must come to class every day with an approved life preserver (Type II or Type III).
For full-day sessions, participants need to bring a lunch.
Schedule for 2023
When registering you will need to select boat type (Opti or FJ) and ability level. Click on the links for information or scroll down.
Some sessions fill-up quickly so be sure to register early!
Please note: LCYC Members have priority sign-up from February 1 - February 28.
Session
Dates
AM (9a-12p)
PM (1p-4p)
1
6/19 - 6/23
Beginners
Intermediate-Advance
2
6/26 - 6/30
Beginners
Intermediate-Advance Race Clinic
3
7/5 - 7/7
Beginners
Intermediate-Advance Race Clinic
4
7/10 – 7/14
Race Week: Champ Chase Regatta (LCYC)**
5
7/17 – 7/21
Intermediate-Advance Racing Class
5
7/17 – 7/21
Beginners
Beginners
6
7/24 – 7/28
Beginners
Beginners
6
7/26 – 7/28
Race Week: Cheeseburger Regatta NLGC **
7
7/31 – 8/4
All Ability Levels
8
8/7 – 8/11
All Ability Levels


*Session #3 is only 3 days this year due to the 4th of July holiday.
**Sailors must attend at least 1 week of the Advance Race Clinic session to participate in regattas.
Prices
| | | |
| --- | --- | --- |
| | Half Day | Full Day |
| Sessions #1,2,4,5,6,7 & 8 (5 days) | $225 | $450 |
| Session #3 & 5 (3 days) | $135 | $270 |
There is a 10% discount for signing up for multiple sessions and a 5% discount for multiple family members.
Coupon Codes
(The coupon codes are entered on the registration website during the last step before payment)
| | | |
| --- | --- | --- |
| | Coupon Code* | % Discount |
| Child of LCYC Member | MEMBER | 10% |
| Grandchild of LCYC Member | GRANDCHILD | 5% |
| Shelburne Resident | SHELBURNE | 5% |
* Note that only one coupon code is allowed for each registration.
Scholarships: There are a limited number of scholarships available to students who do not have the means to attend the sailing camps. Please complete the Landau scholarship application on the LCYC Junior Sailing Website to apply for one of these scholarships. Scholarships will pay for up to two of the half day sessions for each awarded applicant.
Refund Policy: Prior to June 1st, students can withdraw from courses and receive a full refund less a $20 processing fee. After June 1st, we will refund 50% of the camp fees.
Partial Payment: If you wish to make a partial payment, please pay by credit card on the website. You will be billed 50% of the cost at the time of enrollment and the balance will be billed on 5/31/2023.
What Type of Boat Should I sign up for?
Please note boat assignment at camp is determined by instructors
Optimist sailboats are 8' prams with one sail designed to be sailed by one person up to 120 pounds. Most kids under 11 years old or under 100 pounds should sail an Optimist. Racing sailors under 120 pounds should sail in Optimists.
Flying Juniors (FJs) are 14' dinghies with 3 sails: a main, jib, and spinnaker. They are sailed with 2 sailors. Sailors over 120 pounds or over 13 years old should likely be in an FJ.
There is overlap. Kids between 100 and 120 pounds or between 11 and 13 years old will likely be comfortable in either boat. Instructors may place the students in the boat where they will learn the best.
What Level Course Should I Sign My Child Up for?
Please contact sailing director if you have questions.
Beginner: Anyone who can swim and wants to learn to sail. Most sailors remain in the beginner level for several weeks of sailing.
Advanced*: Sailors should be comfortable rigging a boat, righting a capsized boat, and sailing in moderate conditions without detailed instruction. Sailors have mastered the basic skills and would like to improve their seamanship and sailing technique.
Race Training*: These courses are open to intermediate and advanced sailors who want to learn the rules and tactics of sailboat racing.
Race Weeks*: Sailors at the intermediate or advanced level who have the interest and are qualified to compete. Sailors must attend one of the race training sessions or attend the first 3 Thursday evening race clinics prior to the racing week.
* If your child has not sailed at LCYC previously please document their sailing experience thoroughly on the registration form.
How do the Race Weeks work?
The Champ Chase regatta will be at MBBC this year. Races will take place on Thursday and Friday. Sailors come from at least three other clubs to race.
The Cheeseburger regatta will be on Lake George with host to be determined on Thursday and Friday. Families will be asked to help transport sailors and boats on Wednesday and Friday. Most sailors spend Wednesday and Thursday nights with host families in Lake George.
Sailors must attend at least 1 week of Advance (FJ) session in ordered to participate in regattas.